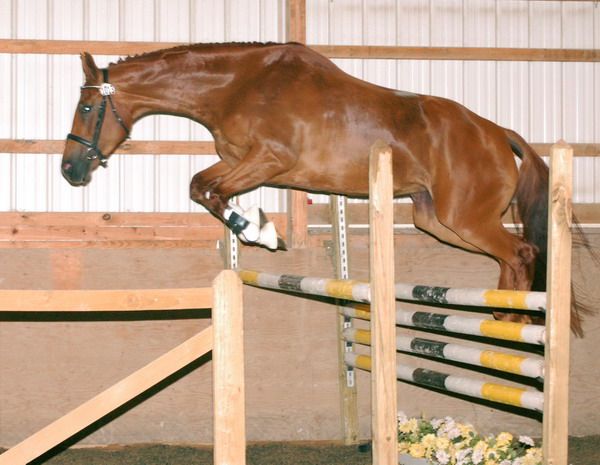 EM Wiktoria HHF is a 2004 mare out of SPS Fenja by Wolkentanz I.  She was bred by Christine Kropf and foaled here on the farm.  Her further breaking, training under saddle, as well as jump chute training in preparation for her MPT we accomplished entirely at our facility. The mare proved her superb talent and mind as Chris, an adult amateur dressage rider who had not previously prepared a horse for an MPT, showed her to outstanding result.  More over she performed her MPT 90 days in foal to Dacaprio!! She truly is an exceptional mare. 
'Tory', as we call her, is very light to ride.  Forward and soft. Two finger reins.  Such a pleasure.  Tory made her debut at an in-hand showing her 3-year-old year.  She entered two events that season and scored no less than 75.0%.  At the NEDA Fall Festival Breed Show Judge Liselotte Fore commented "Elegant neck and head....typey and harmonious".   Her appeal was noted by others and she was awarded Reserve High Score IBC Hanoverian, while tying for the High Score 'Born in America Award' in her age group. 
In 2009 EMC Wiktoria HHF became an Elite Mare with the birth of her colt Dalton HHF by Dacaprio.  And what a colt he is.  Dalton HHF was shown in 2009 and he was 6th in the nation for 2009 Weanling Colts.  He was Champion NEDA 2009 Colts.  He was third in the Nation for 2009 American Hanoverian Society Yearling and Weanlings.  He was also Region 8 USDF/GAIG Colt/Gelding Champion with an 80.350 against all the yearlings, two-year-old and three-year-olds!
In 2009 Tory was shown lightly in the mature mare class while her son Dalton HHF was being shown in his colt classes.  Once her pregnancy to Dacaprio was confirmed, the foal being the full sibling to Dalton HHF, she stayed home.  She was shown at the following events:  Ten Broeck 1 & 2, WNYDA Summer Festival - Dressage at Paduka Run, and the Maplewood Warmbloods Breed Show. 
At the Ten Broeck 1 Breed Show Tory was 2nd in the Broodmare 4 years and older class (her damn SPS Fenja was 1st), which qualified her for the Mare Championship in which she participated.  At the Ten Broeck 2 Show Tory won the Broodmare 4 and older class, qualified and participated in the Mare Championship and with a 3rd place finish.  These qualifications were her ticket to the Region 8 Championships at NEDA. 
At the WNYDA Summer Festival - Dressage at Paduka Run Tory was 2nd in the Broodmare 4 years and older class with a 73.550% from judge William Solynties (her damn SPS Fenja was 1st). This qualified her and she participated in the Mare Championship class. 
At the Maplewoods Warmbloods Breed Show Tory won her Broodmare class 4 & over with a score of 78.7% from Judge Jayne Ayers.  She then went on to be Reserve Champion Mare and was named Reserve Champion Mature Horse for the show!! 
EM Wiktoria HHF received the following Year End Awards for 2009 resulting from the three shows she attended: 
     American Hanoverian Society ~ Mature Mares ~ Eighth 
     NEDA (New England Dressage Association) ~ Mature Mares ~ Third